It is time for a YU Coins Treasure Hunt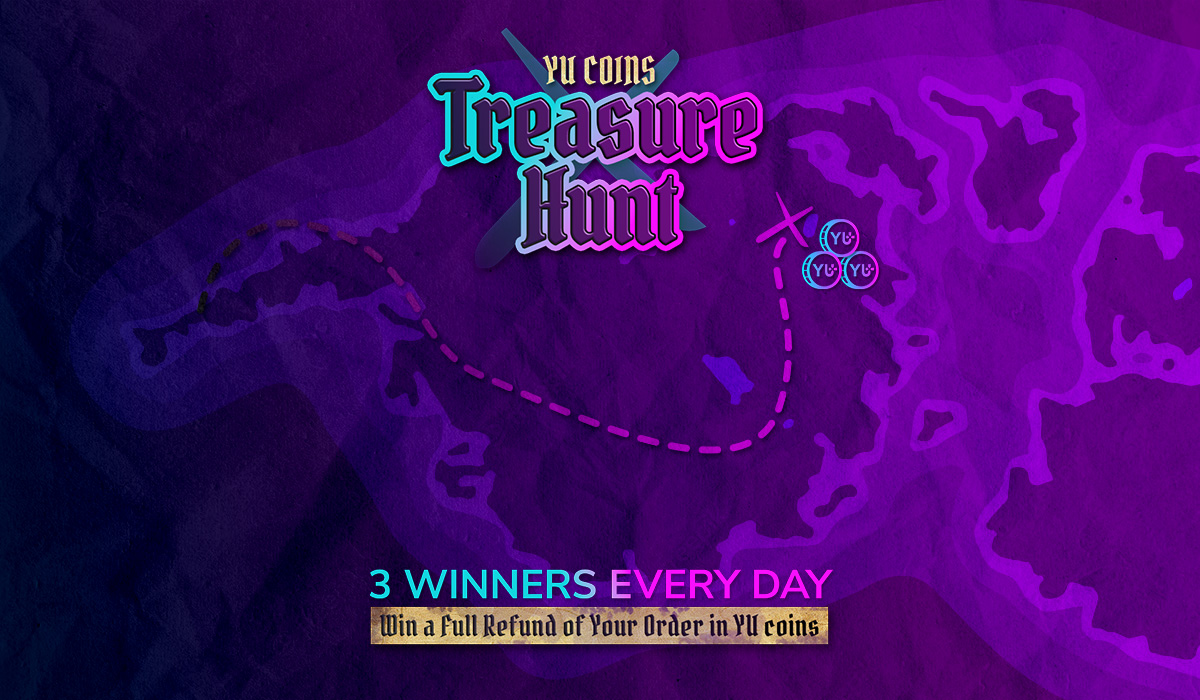 Buy a game and Win a Full Refund of Your Order in YU coins
The time has come for another store-wide promotion and this time it is going to be in the form of a treasure hunt! Make an order from 17.02.23 13:30 CET to 20.02.23 15:00 CET and you might be one of the lucky contestants that will win a full refund of their order in YU Coins!
We are also going to take this opportunity to introduce to you our rebranded and improved YUPLAY balance system – YU Coins, as well as give you a bit more information about it!
But first, are you ready to hear the promotion rules? Let's go through them together, shall we?
In the spirit of an adventure discovery game, we are going to turn the YUPLAY shop into a treasure cove with lots of loot to be won every day. Through this promotional period all games in the shop are going to be massively discounted and also when purchasing titles, you automatically enter for the promotion of that specific day.
The more orders you make, the higher your chances are of winning and being among the three lucky winners that we would pick on a daily basis during the promo period! So, what are you still waiting for, go and grab your favorite titles on a bargain and enter the treasure hunt right now!
The lucky contestants that we choose randomly are going to be announced and contacted by us each day and would receive a complete and full refund of their order in YU Coins, with which they would now have the option to buy even more games! So, not only do you have the chance of keeping all of the already purchased titles, but you get to order even more exciting games or other products of your liking from the YUPLAY store!
This is the point at which we intend to give you a bit more details about the new YU Coins option!
First of all, we should point out that this is a rebranded version of YUPLAY Balance and is denominated in the currency you have chosen on our site (USD, EUR, CAD or GBP). Another thing that is important to note is that the YU Coins received by the winners in the Treasure hunt promotion are not eligible to be withdrawn from your account; they could only be used for direct purchases at the YUPLAY store choosing YU Coins payment method at checkout!
So grab your treasure hunting gear and prepare yourself for the rush, if luck is on your side you would double your loot and spend much more time playing your favorite titles. Think wise, are you going to head for the big win and spend it all in one day, or will you increase your chances by getting discounted games each day of the promotion? In any case you are surely going to enjoy AAA+ games at the best price, available on the market!
We wish you all good luck and lots of treasures!
YUPLAY team!
You can find all the winners below, added on a daily basis (the winners for 17.02.2023 will be announced on 18.02.2023, etc.).
Date            Email           Refunded amount
18.02.2023      [email protected]        55.27€
18.02.2023      [email protected]          17.70€
18.02.2023      [email protected]          8.27€
19.02.2023      [email protected]         10.52€
19.02.2023      [email protected]       26.21€
19.02.2023      [email protected]        29.35€
20.02.2023      [email protected]        17.85€
20.02.2023      [email protected]         3.44€
20.02.2023      [email protected]         21.07€
21.02.2023      [email protected]         41,10€
21.02.2023      [email protected]         6.04€
21.02.2023      [email protected]         3.55€